Winter Tires vs All-Weather Tires vs All-Season Tires: What's the Difference?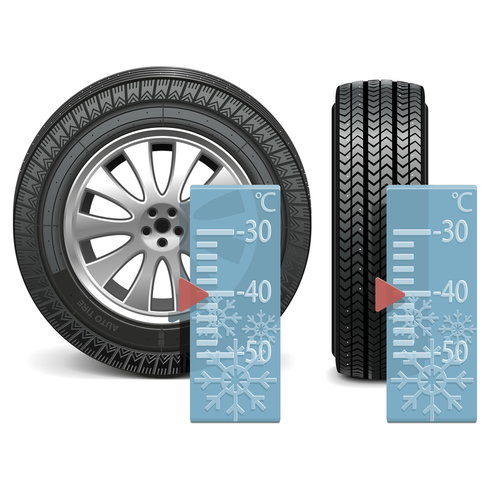 October 31, 2016
Shopping for tires when winter comes around can be as confusing as shopping for a new vehicle.
by&nbspValleyfield Honda
Even more so because unlike buying the car itself, there is a lot more information out there to figure out when deciding what type of tires to put on your vehicle in winter. And, the information is sometimes conflicting.
You can partially blame the vast scope of driving conditions found across Canada for this situation, as well as the varying laws. You see, in Quebec, you have to have winter tires installed on your vehicle between December 15 and April 15. That should make things relatively easy for buyers in the province no? After all, winter tires are required by law, so winter tires it is.
Well, it's not that simple. What the law states in actuality is that vehicles on the roads between December 15 and April 15 need to be equipped with tires that feature a pictogram of a snowflake inside a mountain on the sidewall. Known as the Alpine pictogram, this symbol is your guarantee that the tire you have on your vehicle passed Transport Canada's winter testing and is therefore legal for the winter season.
You will find this pictogram on proper winter tires, but you will also find it on what we call all-weather tires. Notice here that we are not talking about all-season tires. In essence, there are three types of tires offered to consumers, and only two are legal in winter in Quebec.
Let's simplify things by stating that all-season tires are not only useless in winter, but also illegal. The reason can be found in the tire's rubber compound. When the temperature drops below 7 degrees, the rubber of an all-season tire will harden and subsequently have less grip on cold road surfaces. In extremely cold temperatures, there is barely any grip at all. Moreover, an all-season tire's tread pattern is not as effective at clearing out snow and gripping ice as an all-weather tire or a winter tire.
So, all-season tires are out in winter, not only because they are illegal in Quebec but also because they are simply ineffective.
Next comes the all-weather tire. There aren't a lot of models on the market given that this type of tire is fairly new, but they are out there. All-weather tires are designed to provide almost the same winter performance as a winter tire, but they do not need to be removed from your vehicle when spring arrives. The tread in an all-weather tire will remain flexible in cold temperatures, and they are capable of taking on snowy or icy roads with a certain level of confidence. They are also more comfortable when the road is clear, and perform better in wet conditions.
And then, there are winter tires. These offer the best level of performance in heavy snow or on an icy road. That's what they were designed to do. On the other hand, they are not as comfortable when the road is dry, not as stable when the road is wet, and they need to be replaced when spring comes along.
Ultimately, the decision between winter tires and all-weather tires will come down to how many kilometers you drive in winter, and where you drive most of the time. For urban drivers, all-weather tires are convenient and will provide a decent level of traction and safety in most winter conditions. On the other hand, tests have shown that the braking distance of all-weather tires is longer than the braking distance of winter tires in similar conditions.
Therefore, if you do not want to leave anything to chance or you know you have to face difficult road conditions in winter, then winter tires are the way to go.
Finally, the dates set forth by law are certainly not representative of our weather. We all know that winter shows up way before December 15 and can last into May. So, regardless of whether you are going for winter tires or all-weather tires, you should think of installing your tires as soon as possible.
To learn more about the differences between winter tires and all-weather tires, contact us today at Valleyfield Honda! Our tire experts are here to help you find the perfect tire for your vehicle this winter.